---
Growing an email list is an essential part of de-coupling from the frenzy of social media and building more honest relationships. Enter your email below to receive very occasional updates plus a link to download some free content/lessons. I'd really appreciate it!
---
Secondary Dominants at your fingertips.
New Course Out Now!
Secondary dominants are one of my absolute favorite sounds. Used wisely, they add just the right amount of 🌶️ to otherwise diatonic progressions. In this 5 hour course, I teach the concept from the ground up and also walk through my three original etudes in multiple keys so that you will have an understanding of how to incorporate this sound into your playing. If you're not sure about buying the entire course, then check out the free lesson!
(in case you're wondering, Gumroad is a trusted digital markeplace for creators)
---
---
Or, get in touch!
I'm always excited to hear about new projects. Get in touch for gigs, lessons, touring work, production, or...?
Get in touch
Use the form below or, if you'd prefer to reach out directly, it's yesbergerplease at gmail dot com.
---
about me
I'm a pianist, producer, songwriter and educator based in Brooklyn, NY. I graduated from Berklee College of Music in 2013 and have since lived and traveled all over the world playing and working with musical artists such as Lohai, Caleb Hawley, Lawrence, Yola, Darren Criss, The Jonas Brothers, Sam Evian, Teddy Grossman, Grace Kelly, Cory Wong, and many more. I am jazz-trained but feel-focused and currently working mostly in the soul, pop and R&B realms.I'm an Ableton Live nerd, both as a producer but also for building efficient live performance setups. You can learn more via my side-project, Abletoots.From 2015-2021 I worked as an instructor for HDpiano (and later WePiano) where I developed my ability to teach clearly and concisely for video. I have a healthy collection of affordable courses covering topics approriate for beginner and intermediate pianists.Get in touch if you want to set up a lesson or collaborate.
What's wepiano?
From 2015-2021 I worked as an instructor for HDpiano, teaching aspiring pianists how to play their favorite songs. During the pandemic of 2020, I also began working on a project called the HDpiano Academy, which was a collection of courses taught by myself and other talented instructors that aimed to supplement HDpiano students' knowledge of theory and other fundamentals. In 2021, this project was rebranded as WePiano and launched as an entirely separate business for HDpiano students and new students alike.I soon realized that my deep involvement in growing WePiano was preventing me from pursuing other interests in my life. In early 2022 I decided to step down from my leadership role and shortly thereafter, the business was shut down. I'm extremely proud of the work I did there and the courses that I was able to create. Thankfully, I'm still able to offer them for sale and you can find a selection of them here.I love creating education material in video format and will continue to do so (however slowly) in the coming years.
gallery
My instagram probably offers the most up-to-date and comprehensive collection of my work, but I thought I'd showcase a few things I'm proud of here, spanning many years! Many of these videos are of my old band Lohai, which was an original project I formed back in 2015 with the incredible singer and artist Alita Moses.
Baby I Know You Will is an original that I wrote and produced for my band Lohai.
Pusher Love / Case of You is a mashup of Joni Mitchell and JT. I sing a bit in this one!
Playing organ / singing BGVs on this Lawrence tune was such a blast!
Evergreen is a song I wrote about Washington State, where I grew up.
I love my vocoder dearly. Here I am covering Earth, Wint & Fire's "Can't Hide Love."
I wrote & arranged the strings for this Lohai original. Feat. Chase Potter on violin.
An early Lohai video covering one of our favorite Lianne La Havas songs.
I'm a huge fan of the OP-1. This is a video I made sampling and riffing on Thank U, Next.
A quarantine original featuring Lawrence, Antwuan Stanley and many more!
Live from Caleb Hawley's storage unit studio in a tracksuit. Piano breakdown at 2:30!
An oldie but a goodie... an original song with a beautiful animation by Jérémy Pailler.
There's plenty more floating around on the internet but I think this (in combination with my Instagram) is a pretty fun representation of the work I love doing. To hear about upcoming performances and new releases, drop your email below!
Keyboard Heaven
When I'm in Brooklyn I'm usually working out of my studio, Keyboard Heaven. It's a fully outfitted production studio in a floated, soundproof room with all sorts of vintage keyboards and synths plus guitars, basses, drums, and more. It is available for rent or for collaboration. If you'd like to work together either in person or remotely, get in touch :)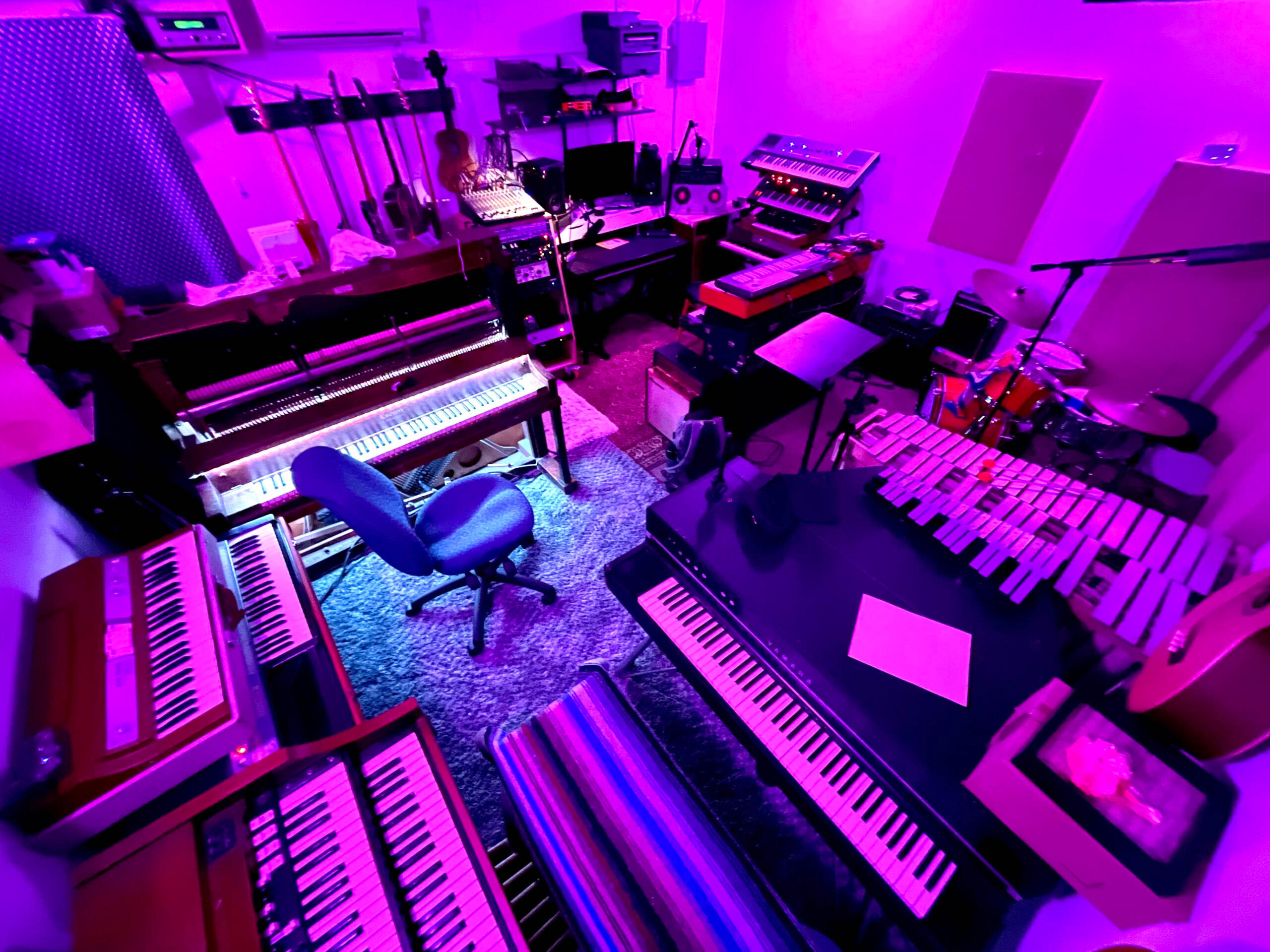 Abletoots
I love working with Ableton and finding new and efficient ways to optimize my live setup. For the majority of my performances I perform with nothing more than a MIDI controller and a computer. I've created some fun custom racks & max for live devices which you can find here, or you can watch some of my other tutorial videos on the Abletoots YouTube. Questions about Ableton? Feel free to reach out!
Courses & Lessons
I've been teaching piano for over 15 years and these days my focus is on growing my collection of online courses. While I do enjoy teaching in person, I find that online courses allow me to really hone in on preparing the most sensible learning paths and exercises for my students. Online courses also allow me to have a much wider reach, all the while keeping prices affordable for students and helping me create an income stream that goes beyond a direct exchange for my time.
Here's a preview video for what is by far my most comprehensive course. Perfect for intermediate pianists looking to spice up their harmonic palette.
The online teaching world is highly saturated with expert marketers who are mediocre teachers trying to maximize their income while interfacing as little as possible with their students. While there are certainly some drawbacks to teaching 'at scale,' I do my best to create content that is thorough, well-thought out and highly targeted to create RESULTS for my students. Not only that, I don't want to charge an arm and a leg for my courses – I'd much rather prioritize reach and accessibility. If you're interested in learning more, poke around the catalog and feel free to reach out for some recommendations.
Drop your email below and stay up-to-date on new releases and deals on existing courses.
Sideman & MD
Having toured and led various bands for many years in New York City and beyond I'm familiar with all aspects of what it takes to create memorable and impactful live performances. I'm a tasteful player with a knack for emulating parts and patches on keys and synths, and I'm a nerdy Ableton pro with years of experience building foolproof sessions and handling playback and live instruments. I'm also a confident and coolheaded MD with a large network and a soft spot for the nitty gritty details that come with the job. Let's make something happen together!Some folks I've worked with: Darren Criss, Yola, Cory Wong, Caleb Hawley, Sam Evian, Grace Kelly, and many more.
"Devon is an absolutely amazing MD. We requested he MD a play-through of the rock musical, Hedwig and The Angry Inch, and with only a week's notice he absolutely blew us away. He built out charts, coordinated with the band, and made sure everyone was on the same page. The band sounded amazing. The play-through went off without a hitch. I couldn't recommend him enough!!!"
- Casey Skinner, Sons of the Lifeguard